Hyman Bloom: The Beauty of All Things
In 2010, the documentary "Hyman Bloom: The Beauty of All Things" was released.  The film was written and directed by  Angélica Brisk and is well worth seeing.  It is available for online purchase, at a very reasonable price,  from Documentary Education Resources (DER).
The film is also available for online streaming at Fandor.
The Beauty of All Things trailer:
---
From the Documentary Education Resources  website: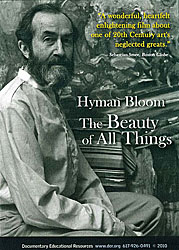 "Painter Hyman Bloom is one of the forefathers of abstract art in America. His career flourished in the 1940's and 50's garnering the highest praise in both art and popular press. His intense beliefs about composition and masterful command of color were breathtaking and are admired by artists to this day. But Hyman's decision to continue exploring figurative work when the art world was moving towards total abstraction and his habitual disdain for the public eye brought him from being one of the infamous "Bad Boys from Boston" to a man little known in the mainstream art scene.
Weaving interviews, archival photos, never before seen sketchbooks from the 1930s to the present this film chronicles an artist blessed with longevity and creativity who continued to work hard at his craft even as he approached his 95th birthday. Born in Brunaviski, Latvia, Bloom grew up in an orthodox Jewish family in the West End of Boston – a neighborhood since vanished.
The film highlights a body of work that is a vibrant manifestation of Bloom's imagination and his dedication to envision what others didn't dare. He painted rabbis and Christmas trees, cadavers and autopsies, séances and the astral plane, the woods of Maine and the shimmer of opalescent pottery. Told with humor and irony Bloom's story is not a bitter one. It is a triumph of art and of the spirit."
Film Festivals, Screenings, Awards
Special Prize of the Rotary Club, International Film Festival of Fine Arts, Hungary, 2012
Best Short Film, Jewish Eye Film Festival, Israel, 2011
Best New England Film, Newburyport Film Festival, MA, 2010
RiverRun International Film Festival, USA, 2012
Museum of Fine Arts, Boston, MA, 2010
Woods Hole Film Festival, MA, 2010
Atlanta Jewish Film Festival, 2010
Yeshiva University, USA, 2009