Expressionism: Boston's Claim to Fame
by Nicholas Capasso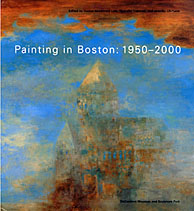 Originally published in Painting in Boston: 1950-2000,
Edited by Rachel Rosenfield Lafo, Nicholas Capasso, and Jennifer Uhrhane
University of MA Press, Amherst, MA
© 2002, DeCordova Museum and Sculpture Park.
Reproduced with permission
---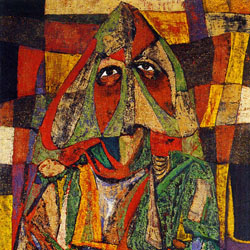 Regional styles in the visual arts are hard to come by in the history of American art in the second half of the twentieth century. Local identities were—and continue to be—obscured by the international hegemony of the New York art scene, and accelerating global interconnectedness via print, television, and computer-related media makes notions of regionality or locality obsolete, or even suspect. Despite these powerful forces, a few geographic areas have come to be identified with particularities of style or subject matter. The art historical canon now accepts, albeit marginally, two local postwar "movements": San Francisco Bay Area Figuration, which includes the painters Richard Diebenkorn, Nathan Oliveira, and David Park; and the Chicago Imagists, centered on the work of Jim Nutt, Ed Paschke, and H. C. Westermann. Both of these regional phenomena enjoyed historical and stylistic integrity, produced important art, and represented isolated figurative camps that weathered the fifties onslaught of New York-based Abstract Expressionism. Boston, too, has a regional figurative style: expressionism, which has flourished and persisted here since the forties.
At mid-century, Boston was home to a vital, home-grown group of painters, the Boston Expressionists, at the apogee of their powers and reputations—and anyone paying attention to contemporary American art at the time knew it.1  As early as the thirties, the young Boston Expressionist painter Jack Levine began receiving national attention and acclaim. His work was included in the Whitney Museum of American Art's Annual Exhibition of Contemporary American Painting in 1937, and the following year found his paintings in Three Centuries of American Art, an exhibition organized by New York's Museum of Modern Art (MoMA) for the Jeu de Paume in Paris. In 1942, Levine was selected by curator Dorothy Miller, along with fellow Boston Expressionists Hyman Bloom and David Aronson, for her prestigious MoMA exhibition Americans 1942: 18 Artists from 9 States. Aronson reappeared in Miller's Fourteen Americans in 1946, again at MoMA. During the forties, Bloom, Levine, Aronson, and Karl Zerbe showed regularly in New York commercial galleries, and ARTnews began to identify and discuss the growing school of expressionist painting in Boston.2  Also in 1946, Bloom, Levine, and Zerbe found themselves among the important artists listed on Ad Reinhardt's syndicated drawing How to Look at Modern Art in America, a semi-satirical art historical evolutionary tree with its roots in Post-Impressionism, a Cubist trunk, and branches and leaves representing then-current stylistic directions.3
And then there is Hyman Bloom, arguably the greatest of the Boston Expressionists in terms of both aesthetics and reputation. In 1950, his work was placed in the American exhibition at the Venice Biennale, alongside paintings by Willem de Kooning, Arshile Gorky, John Marin, and Jackson Pollock, and Elaine de Kooning wrote an extended article about his creative process for ARTnews.4  In 1954, a Bloom retrospective, organized by The Institute of Contemporary Art in Boston, traveled to venues across the country and culminated at the Whitney Museum. In the same year, his painting Apparition of Danger appeared on the cover of ARTnews, and within the magazine's pages critic Thomas Hess heralded the Boston Expressionist as "one of the outstanding painters of his generation."5
At the time, national visibility for a group of expressionist painters came as no real surprise. Just prior to the late-fifties consolidation of Abstract Expressionism's critical, art historical, and market victories, Figurative Expressionism had been a dominant form of painting, not only in the hinterlands of San Francisco, Chicago, and Boston, but in New York itself.6  With the waning of Regionalism and Social Realism in the early forties came a broad-based resurgence of interest in figurative painting that sought to express emotional content about the human condition. Descriptive reality was abandoned in favor of a stylistic approach, heavily indebted to Munch, van Gogh, Picasso, and early-twentieth-century German Expressionism, which stressed formal metaphors for ineffable states of mind.7  Physiognomic distortion, evocative non-naturalistic color, bold lines, and virtuoso painterly brushwork erupted from intuitive (rather than analytic) creative processes, bent to the task of communicating what a subject feels like rather than what it looks like. It was surprising that the staid city of Boston could be a locus for such an outpouring of passion.
The emergence of a strong school of expressionist painting in Boston was no accident but the product of several interconnected attitudes, events, and personalities. The first inklings of a developing expressionist sensibility came in the twenties and early thirties with the emergence of Jack Levine and Hyman Bloom. Levine and Bloom both grew up in poor, immigrant Jewish communities in Boston's South End and West End, respectively. Both boys displayed prodigious drawing skills early on and were avid students in public school art programs at the Museum of Fine Arts and in art classes held at neighborhood settlement houses. Word of their talents quickly spread, and they attracted the attention of two very important teachers, Harold Zimmerman and Denman Ross.8
Zimmerman, a student at the School of the Museum of Fine Arts, supported himself by teaching at settlements and by tutoring individuals. In the mid-twenties, he took on both Levine and Bloom, separately, and began a course of instruction that steered both artists in an expressionist direction. First and foremost, Zimmerman's pedagogical approach relied on drawing from memory, after intense observation of natural phenomena and great works of art. In this way, nature and art were valued but not imitated, and the imaginative faculties of the mind were held in greater regard than slavish copying. Bloom biographer Dorothy Thompson precisely described Zimmerman's approach: "a method of drawing which relied upon the imagination and emphasized 'picture making,' the development of an organic unit denned by balance and harmony. The aim was to create a structure in which emotional intensity was achieved by the constant play of visual tensions, and completed when they were poised."9   To support his teachings, Zimmerman introduced his charges to the work of Rembrandt and William Blake, and in 1931 he took them on a trip to the new Museum of Modern Art in New York to see, for the first time and firsthand, paintings by James Ensor, Paul Cezanne, Chaim Soutine, and Georges Rouault.
In 1929, Bloom and Levine—while still with Zimmerman—began studying together under Denman Ross, a 77-year-old patrician art collector, Harvard professor emeritus, and design and color theorist. Ross was in the habit of taking on private students to test the applicability of his theories, and he was so impressed with the two young artists that he paid them each a stipend of twelve dollars per week so that they could devote themselves full-time to their artwork and studies. Like Zimmerman, Ross believed in formal discipline at the service of the imagination, and direct study of great works from the history of art. To this he added an idiosyncratic approach to color relationships that was, according to Ross, an applicable scientific system that could yield universal harmonies of tone and value. Though Levine and Bloom were tutored in this chromatic arcana, they did not become unquestioning initiates. The value of this intense concentration on color for them was a rapid development of their skills as painters, deep sensitivity to color relationships, and a burgeoning appreciation for color as a means of emotional expression.
By 1933, as the boys became adults, they ended their studies with Zimmerman and Ross, rented a shared studio, and joined the Massachusetts section of the Public Works of Art Project (later the Federal Arts Projects of the Works Progress Administration) in order to survive by painting during the Great Depression. By the end of the decade, both artists were producing mature works in signature styles. They remained close until 1942, when Levine left Boston to enter military service; he then relocated to New York after World War II. And, even though their names were most often mentioned in the same breath, their works—while distinctly expressionist—differed in both style and subject matter. As Bloom described it, "Jack was interested in people and politics. Jack's interest is in political philosophy; I'm interested in mystical philosophy."10