Boston Modern:
Figurative Expressionism as Alternative Modernism (excerpt)
by Judith Bookbinder
© Judith Bookbinder, 2005, University of NH Press  Reproduced with permission.
---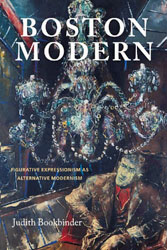 One night in the late fall of 1939, alone in his studio, Bloom had an experience that changed his relationship to the world and, consequently, his art. He describes a vision of dazzling color and an expansion of consciousness. "I had a conviction of immortality, of being part of something permanent and ever changing, of metamorphosis as the nature of being," he recounted. "Everything was intensely beautiful, and I had a sense of love for life that was greater than I had ever had before."  It was a religious experience without the Orthodox dogma of his childhood. Bloom's journey from Orthodox Judaism to mysticism, like the Puritans' journey through transcendentalism, took him from rigid rule and retribution into the relenting atmosphere of personal spirituality while still maintaining his religious identity. Mysticism and Orthodoxy constitute the two radical poles of Judaism.
Bloom's experience released a wave of creativity resulting in his first mature works in which he could synthesize his Central European childhood, his Boston youth, and his personal vision. That same autumn, an explosion of saturated primary color in thick, undulating impasto erupted on a canvas entitled Christmas Tree . It embodied the joy of Bloom's epiphany, but it transcended Christian religious imagery to become a celebration of color and light, a triumph over darkness and fear.   The painting became well known to Bloom's friends, and Lawrence Kupferman included it in his narrative about Boston artists. Manuel, Kupferman's fictional alter ego, encounters the painting in the racks at the Boston FAP office; the painting was, in fact, one of the few that Bloom submitted to the FAP, who gave it to the Museum of Fine Arts.  Kupferman's description reveals his own enthusiasm for Bloom's work
"There was a terrific painting by Max Barren [Hyman Bloom] of a fir tree, painted with the excited vision of a man seeing a fir tree for the first time: a wild and voracious miasma of paint, it looked at first, [like] an exuberant, phrenetic [sic] orgy of pigment, a thing of greens and blues, with occasional searing reds. But the more you looked at it, the more it took shape and form, and the more it spoke to you—not only of the beauty of the thing itself, but of the artist's own vision and imagination."  This painting may have been the one that caught the attention of DeKooning and Pollock in the Americans 1942 exhibition. A 1945 version of Christmas Tree carries the dissolution of the object to the edge of nonobjectivity, leaving the vibrant, hot color and exuberant brushwork to hint at the original subject only through the symmetry of the composition .